Origami Air S Dripper
Regular price

Sale price

$47.00
Origami Air Small Dripper

Comes with AS resin holder!* 
This is a resin plastic version of othe Origami Drippers. 
The ORIGAMI dripper was designed by the founder of Trunk Coffee in collaboration with Origami Japan. It features a beautiful and playful design with 20 ridges that optimizes the bloom and brew speed for maximum control.
This S size dripper is suitable for 1-2 cups of pour over coffee. It fits size 01 Hario filters, 1-2 cup Kono filters, Kalita 155 filters, as well as other small conical filters. 
*The AS resin holder has a ridge design that holds the brewer for a more stable brewing experience. The holder is also made in Japan. Your origami dripper will no longer be slanted while brewing! 
Dripper & holder are hand wash only. 
Shipping

Once your order is received, it will be processed and shipped in 1-3 days.

Free delivery in Calgary for orders over $20. (in city limits)
Free delivery across Canada & the US for orders over $75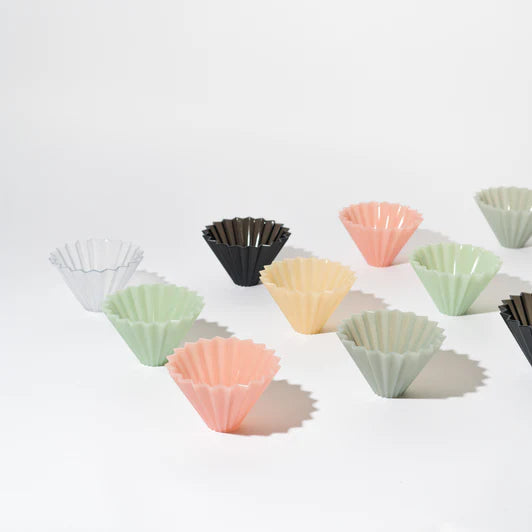 Durability/quality concern
I've used the Air S dripper and resin holder at home for ~ 6 months. I also have a ceramic M dripper (replaced when I broke the first), Air M dripper and wood holder (and use Origami filter papers) - so I'm an Origami fan. I most frequently use the wood base and M size dripper so the Air S dripper and AS resin holder have seen moderate use. The AS resin holder that was bundled with my Air S dripper has developed two radiating cracks that start at the tip of the indents that hold the dripper, run the full depth of the collar and are growing to the outer rim. It will probably break apart at some point. I reached out to Origami, as this is a quality issue I think they should be concerned about, and they were dismissive and uninterested in following up. I can't recommend the AS resin holder and am now less keen on Origami as a brand/company.
Biotre bags are made 100% from plant based material.
Both the manufacturing and disposing process is better for the environment.
Composting Biotrē Bags
You can compost the outer lining in a healthy home compost, which will break down within 12 weeks.